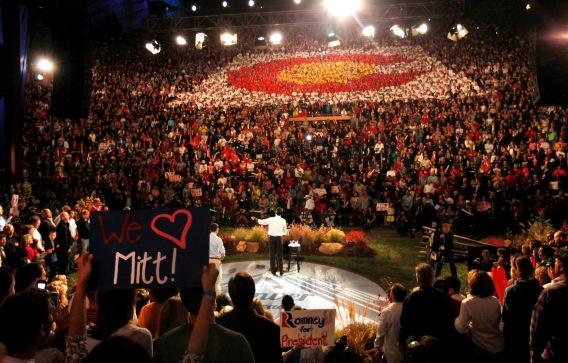 If (and when) Mitt Romney wins Colorado, pundits and prognosticators will likely point to the Red Rocks rally last night as the moment Mitt Romney sealed the deal in this state. The Republican ticket brought the house down before an adoring crowd of 10,000 with thousands more turned away at the door.
Reports The Colorado Observer's Tyler Sandberg:
MORRISON, CO — Seeking a powerful moment to propel their campaign across the finish line, Mitt Romney and running mate Paul Ryan may have found it at a raucous rally out at Red Rocks Tuesday night.

By far Romney's biggest crowd in Colorado to date, the more than 10,000 in attendance stomped their feet, banged thunder sticks emblazoned with the campaign's logo and broke into impromptu chants of "Romney, Ryan."

The optics of the event couldn't have been better for the Republican ticket, with rally goers donning white, yellow and red t-shirts forming the "C" from the Colorado state flag, and the Romney "R" logo projected onto the twin cliffs on opposite sides of the amphitheater. 

The energy only two weeks from Election Day was palpable inside Red Rocks, with Colorado Republicans tasting the chance for victory in a state that went for President Obama by nine points in 2008. It was referred to often as the political event of the season, drawing a packed house that forced organizers to turn thousands away.
Not only could Republicans taste victory last night, but they seemed to already be savoring a tremendous turnaround from a jarring loss to Obama four years ago.
Even Colorado Pols had a hard time spinning the event, sarcastically suggesting it took "every Republican in Denver" to pack the house…though admitting they were just being a "buzzkill."
As we noted yesterday, Romney's political and advance teams knew exactly what they were doing by hosting the event at Colorado's premiere outdoor venue. Expectations were high for the event, but Team Romney was able to not only meet them, but exceed them.
Photos of the event ricocheted across Twitter and the interwebs, with pundits, press and political operatives all remarking at the brilliant images the rally created for Romney.
Barack Obama may have rallies of larger size, but we seriously doubt any campaign will top the optics of last night's Red Rocks "raucous rally."