The left's most notorious anti-Semite is at it again and Democrats in Colorado just don't seem to really care.
It turns out that Minnesota U.S. Rep. Ihan Omar thinks the U.S. and Israel are terrorists just like the Taliban and Hamas.
On Monday, Ms Omar tweeted that "we have seen unthinkable atrocities committed by the US, Hamas, Israel, Afghanistan, and the Taliban".
"We must have the same level of accountability and justice for all victims of crimes against humanity," she wrote, including a video of her questioning Secretary of State Antony Blinken during a committee hearing in the House of Representatives.
A dozen Democrats led by California U.S. Rep. Brad Sherman blasted Omar in a rare display of party-infighting.
Group of House Democrats is out with a statement tonight condemning Ilhan Omar's recent comments, saying they "give cover to terrorist groups." pic.twitter.com/kDxSkb7OCi

— Andrew Desiderio (@AndrewDesiderio) June 10, 2021
House Speaker Nancy Pelosi has called on Omar to clarify her comments, but made it clear she was not going to "rebuke" Omar, and pledged to keep the anti-Semite on the House Foreign Affairs Committee.
U.S. Sen. Michael Bennet and U.S. Rep. Jason Crow, Colorado Democrats, tend to cast themselves as pro-Israel in certain contexts and have spoken out against Hamas and anti-Semitism in the past.
However, both are curiously quiet about Omar's recent comments and declined to indicate whether they agree with Pelosi keeping Omar on Foreign Affairs.
U.S. Sen. Rick Scott, Chairman of the National Republican Senatorial Committee, blasted Bennet for refusing to take a stand.
"The Democrat Party is in serious need of soul searching. Speaker Pelosi's defense of Congresswoman Omar on Sunday shows how scared Democrat leadership is by the radical liberals in their base. By backpedaling their criticism of the hateful comment instead of moving to remove Omar from her Foreign Affairs committee assignment, Pelosi showed the world that her party is wholly controlled by the socialist wing – a bunch of radicals who believe America is rotten to the core, "Scott said.
"Americans reject this notion and are disgusted by the recent anti-Israel comments from Omar, and the rest of the 'squad.'  Michael Bennet may be content with remaining quiet but as he seeks re-election in 2022, he will be in for a surprise when the voters have a chance to share their opinion at the ballot box," Scott said.
Given Omar's track record, it's likely only a matter of time before she accidentally reveals her anti-Semitic beliefs again.
However, Bennet and Crow appear more concerned about Omar's unseemly influence on their base in Colorado.
A May poll from Morning Consult showed just 12% of Democrats sympathize more with Israel in their struggle against terrorism, while 18% sympathize with the Palestinians.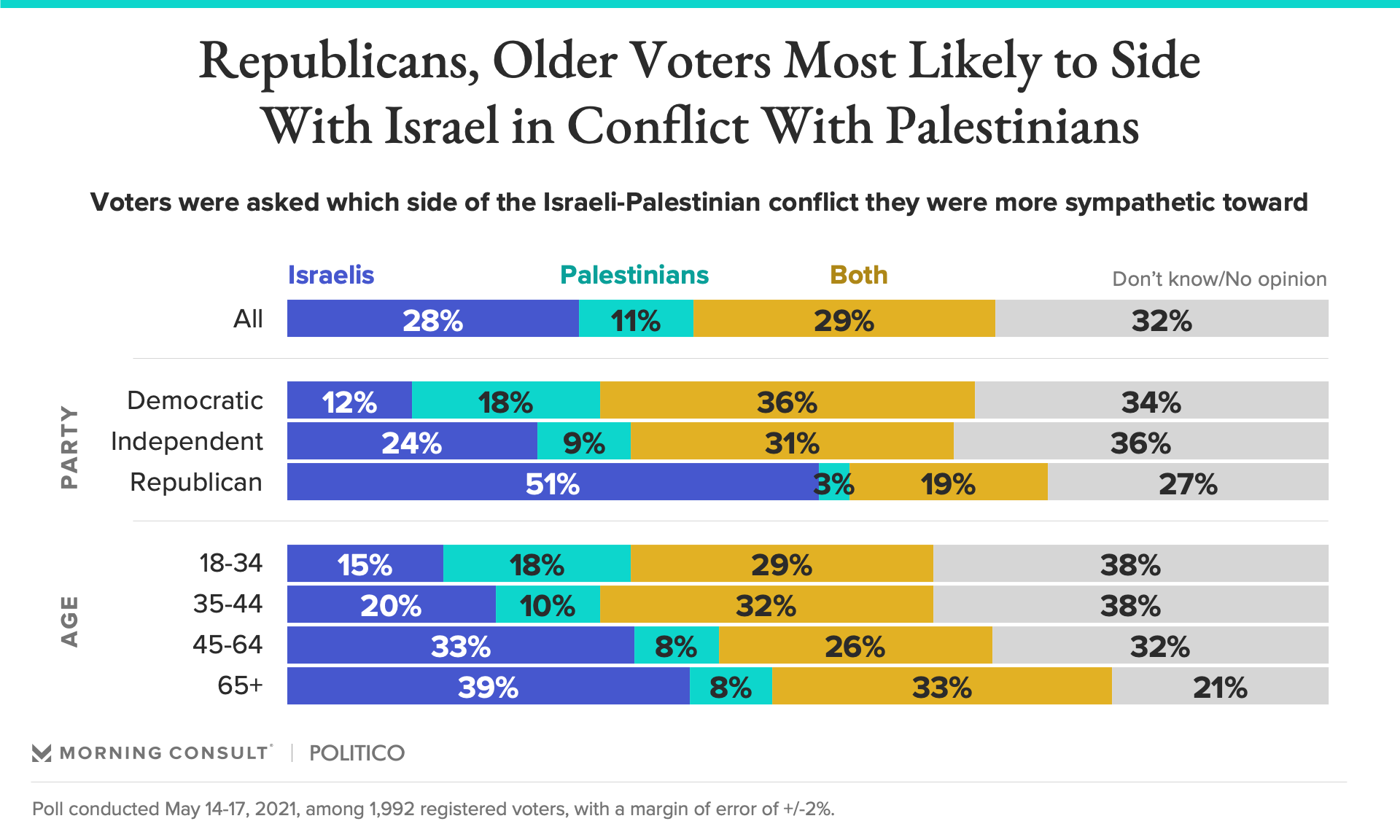 Another May poll showed a dramatic surge of Palestinian support for Hamas after the terrorist organization in Gaza sparked a month long campaign of violence against Israeli civilians.
The poll by the Palestinian Center for Policy and Survey Research also found plummeting support for Palestinian Authority President Mahmoud Abbas, who was sidelined by the fighting but is seen internationally as a partner for reviving the long-defunct peace process.

The poll found that 53% of Palestinians believe Hamas is "most deserving of representing and leading the Palestinian people," while only 14% prefer Abbas' secular Fatah party.
For Democrats, there isn't really middle ground here. Anyone who sympathizes with the majority of Palestinians is at the very least apathetic about Hamas's campaign of terror against Israeli civilians, or full-blown supporters of terrorism.
Bennet could potentially face a primary challenge from the left, and redistricting later this year leaves an element of uncertainty for Crow in 2022.
By all appearances, neither Democrat appears to be in a hurry to antagonize their base their party drifting ever further away from our allies in Israel.