With Congress investigating how Abound Solar got a $400 million taxpayer-backed loan, only to go bankrupt less than two years later, it is useful to look back at how tightly connected Colorado's Democrats were with the company.
As we noted yesterday, former one-term governor Bill Ritter hand delivered two letters of support for Abound Solar to Obama's Energy Secretary Steven Chu. After leaving office, Ritter had a $300,000 a year salary partially bankrolled by Pat Stryker, whose Bohemian Companies had invested heavily in the failed solar panel manufacturer.
If Abound ends up being a full-blown pay-to-play scandal, these are the folks that will have some serious questions to answer.
Secretary of the Interior Ken Salazar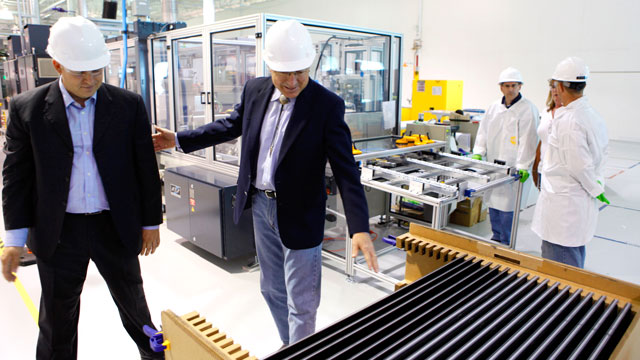 (Credit: ABC News)
Former one-term governor Bill Ritter
(Credit: NREL)
Congressman Jared Polis & former one-term governor Bill Ritter
(Credit: NREL)
Bill Ritter, again. (At Abound ribbon-cutting)
(Credit: NREL)
Pat Stryker and former Congresswoman Betsy Markey
(Credit: Complete Colorado)
Ken Salazar inspecting solar panels at Abound. Any chance they are the defective ones that appeared on top of Pat Stryker's Bohemian Companies building?
(Credit: Washington Times)
And…Obama personally announcing the Abound Solar loan, promising "1,500 permanent jobs" between the Colorado and Indiana plants. Two days prior to this announcement a "Pat Stryker" shows up in White House visitor logs.