UPDATE: The #1 trending hashtag on Twitter is #LiberalTips2AvoidRape. Joe Salazar — consider this a career-ender. Now get this, The Denver Post has still not posted a story on it. This is the top story in the world — as in the whole electronic galaxy — and the so-called paper of record still hasn't covered it?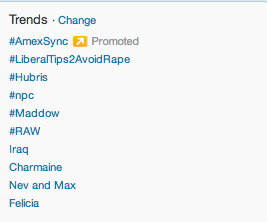 Calling the rape police (we mean all you reporters, liberal bloggers and reporter/liberal bloggers who fixated on Ken Buck, Todd Akin and Richard Mourdock for the last, oh, 3 or so years): time to ask every Democrat you can think of, starting with Governor John Hickenlooper all the way down to the elected Democrat dog catcher in Buena Vista, whether or not they condemn the insensitive comments about rape made by the eloquent one, Rep. Joe Salazar (D-Box of Rocks).
Per Eli Stokols:
DENVER — First-year state Rep. Joe Salazar is apologizing for a statement during Friday's debate over a concealed weapons ban on

college campuses that has drawn the ire of conservatives across the blogosphere.

In arguing in favor of the ban, Salazar, D-Thornton, said that women on college campuses don't need guns to feel that they're safe.

"It's why we have call boxes, it's why we have safe zones, it's why we have the whistles," Salazar said on the House floor. "Because you just don't know who you're gonna be shooting at. And you don't know if you feel like you're gonna be raped, or if you feel like someone's been following you around or if you feel like you're in trouble when you may actually not be, that you pop out that gun and you pop … pop around at somebody."
Does Joe Salazar think women are so stupid they might be confused about whether or not they are about to be raped?
Time to add a new term to the American political lexicon: confused rape.
Confused rape (n.) the act of thinking you are about to be raped when in fact you are not.
And right after it, add this second and related term:
Confused rape homicide (n.) the act of "popping" somebody with a cap inadvertently while experiencing a state of confused rape.
We joke, but of course, these situations are real and Salazar's ambling idiocy speaks to just how hollow the Democrats' arguments really are on these questions of basic self-defense.
Move over Todd Akin, make room for Joe Salazar. Confused rape homicide — the reason young women can't carry a gun on campus.